The Secret Swiss Underground Fortress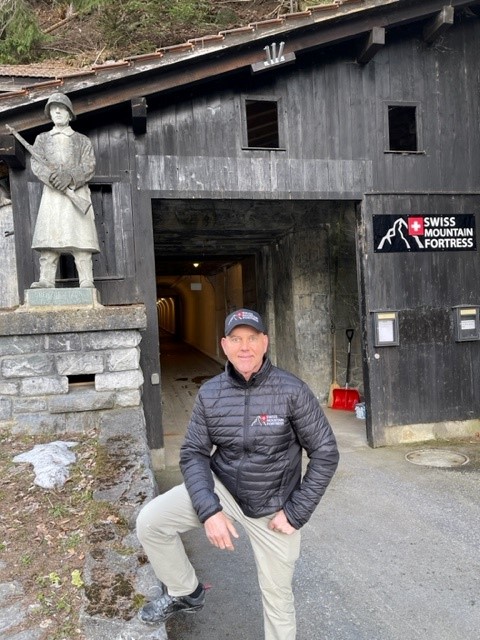 In the mountains underneath the village of St Margrethenberg above Bad Ragaz (at 4,000 feet) lays the "battle ship" of the Alps that stood the test of time (Building started 80 years ago in 1939). It was kept completely secret by the Swiss Army until 2001. The Fortress Furggels (also called Fort Furkels) is one of the largest underground Fortresses ever built in Switzerland. Originally built during World War II later maintained and continuously upgraded during the Cold War to the latest standard (til 1999) with nuclear filters etc to survive new threats including nuclear attacks.
There are 2 stories underground separated by 60 feet of rock, connected by elevator and walkways deep inside the mountain, accessible thru the main gate by vehicles including large trucks. Here are just a few mentions: 541 beds, large ammunition storage rooms, multiple offices, large kitchen, several eating halls, over 190 rooms total, over 7 miles of passage ways, 3 large Diesel engines and one emergency generator for energy production, 1.8 million liters water reservoir, a hospital etc. over 500 soldiers could be housed for six months at a time, never leaving the fortress.
The main defense consisted of four 15 cm cannons the largest ever built in Switzerland and four 10,5 cm cannons (with a 360 degree radius). May 2nd 1998 the last training shot was fired from the cannons. All cannons are still present and can be viewed in the underground fortress.
This fortress exemplifies swiss ingenuity, a true masterpiece built for self defense and survival.
It is 10 minutes from the famous 5-star Grand Resort Bad Ragaz. https://www.resortragaz.ch/en.html
Fort Furggels is the largest privately held Fortress in Switzerland.
Rooms for rent. Different sized rooms are available for rent for security storage or cloud space.
Currently renting space:
-ETH Zürich; Gravitationslabor
-TH Schweiz GMBH
-Ludwig Limbeck AG Ingenieure
Also now available are high security private storage servers so you can have your own private "cloud server"  in the Swiss Bunker.  For details go to >> www.SwissMountainServer.com
For further info contact:
Erich Breitenmoser
info@festung-furggels.ch
+41799314001
See page in German
Click on picture below to see slideshow:
Private viewings in small groups available
50 Swiss Francs per person (Min 500 Swiss Francs per showing)
For further info contact:
Erich Breitenmoser
info@festung-furggels.ch
+41799314001